Jonathan Trayner
V.D.M.I.Æ. (v.4.1) - An Opera for Robots
Exhibition open:
28.9.19 – 20.10.19
Sat. – Sun. 12:00 – 18:00
Private view:
Thursday September 26th, 18:00 – 20:00
Offsite Performance Event:

Thursday October 10th, 19:00 - 23:00

New River Studios
Ground floor
Unit E,
199 Eade Road,
N4 1DN

The full opera will be performed alongside music from contributors to the remix album: Hannah Dargavel-Leafe and Sam Taylor.
Jonathan Trayner presents his grand opera for robots – V.D.M.I.Æ. – alongside a series of linocut illustrations from the libretto.
Based on the 1925 play Thomas Münzer by the German playwright Berta Lask this piece is a mock-heroic attempt to create a voice for the voiceless machines, a pathetic presage of the future of automatic poetry. The original play was written as a piece of pedagogic theatre to instil communist ideas in the German proletariat. It is the story of the radical German preacher Thomas Müntzer, a utopian and proto-communist that was one of the leaders of the peasants' during the German Peasants' War of 1525. The text has been 'written' by taking Lask's script, scanning it, running the scan through first text recognition software, then an automatic translator. This was then passed uncorrected through text-to-speak software to create the voice that was then turned into song. The glitches and errors create an accidental poetry that slips in and out of meaning and demonstrates the failure of communication that is at the heart of the tragedy of the human condition.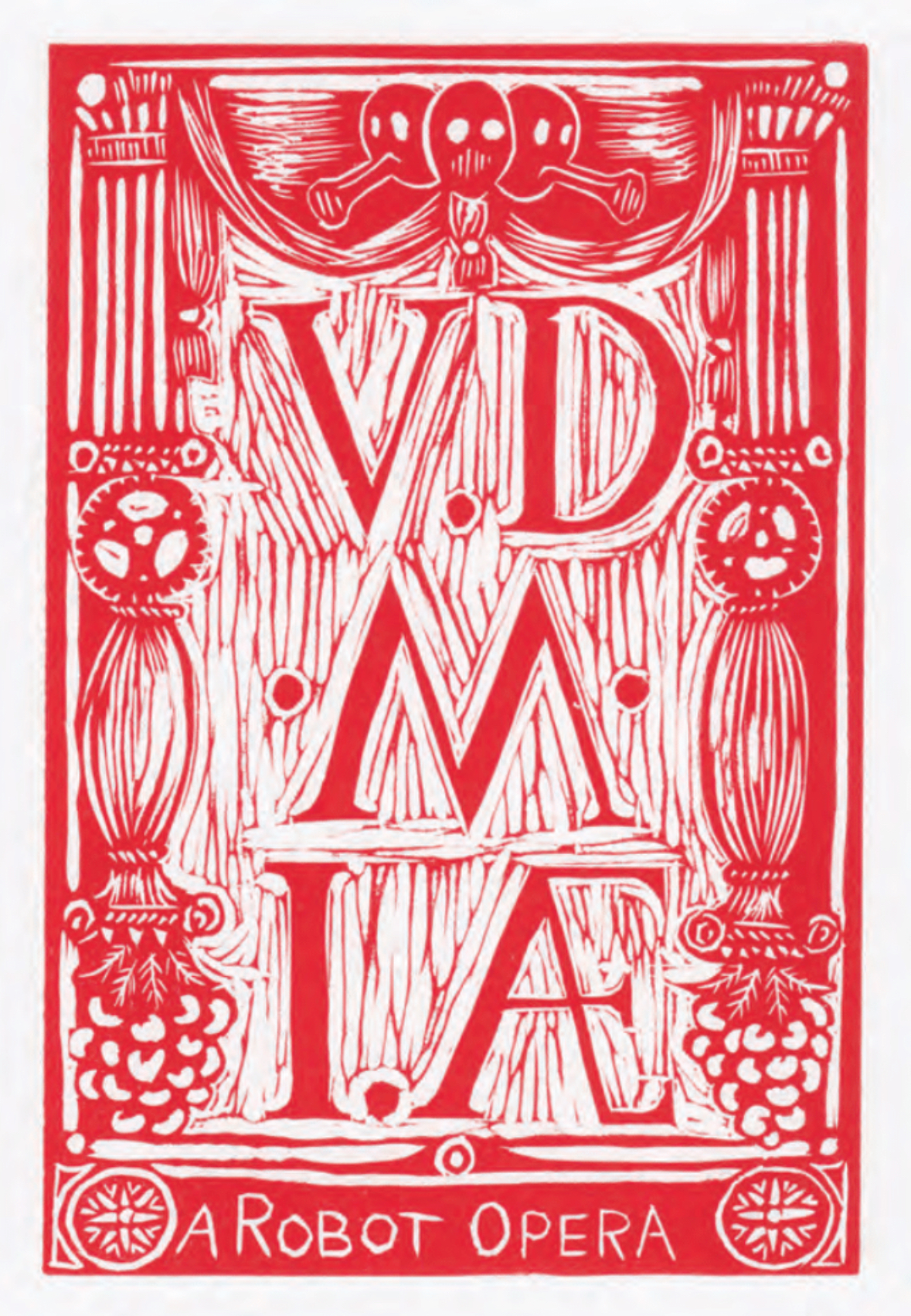 The accompanying prints deliberately mimic the style of the early German pamphlets that were the driving force in the dissemination of the Reformation and the catalyst for the Peasants' War. The title of both of these works, V.D.M.I.Æ., stands for Verbum Dominum Manet in Æternum – The Word of the Lord Endures Forever – the slogan that Müntzer carried on his banner. The use here plays with the failure of meaning and the corruptibility of the text that the singing sculptures highlight.
Jonathan Trayner (b. 1978) lives and works in London. His recent projects include V.D.M.I.Æ. various locations (2016-present); Centre for Remote Possibilities, Matt's Gallery, London (2014); The (Im)Possible School, Tate Modern, London; Corbin Union Residency, Corbin BC, Canada, (2012); Sandarbh Residency Programme, Partapur, India (2010) and Pilotprojekt Gropiusstadt, Berlin (2009). He received an MA in Fine Art from Chelsea College of Art and Design in 2007 and his PhD. from the University of Reading in 2019.