John Chilver
Exhibition open:
23.6.18 – 15.7.18
Sat. – Sun. 12:00 – 18:00
Private view:
Thursday June 21st, 18:00 – 20:00
John Chilver was in conversation with Emily Rosamond on Sunday 22nd July at 15:00. You can hear the discussion here.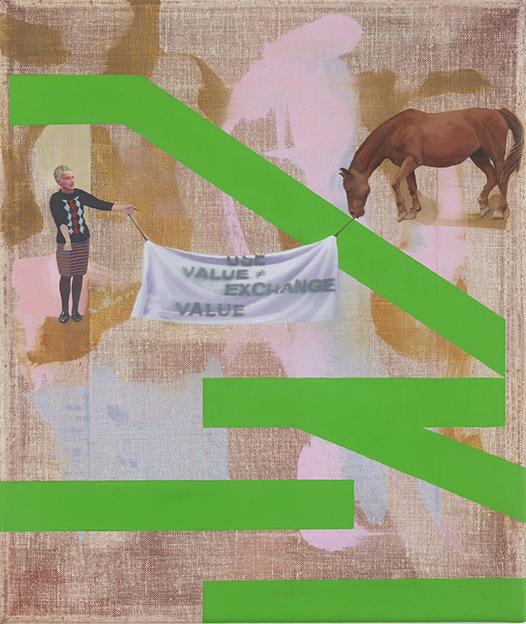 If you're not a self-policing narcissist or a managerial feudalist or both, after a while you find you're happy at the happiness of others and it gets hard to say exactly whose happiness is being had by whom. Experiment with affectful edges as much as you need to. Whatever scale. Infrastructural, ecocivic, glocal, creaturely, egosynthetic or what have you. Get the mornings right and the rest of the day usually follows. Keep in mind that happiness is the betrayal of desire. Scale is nearly everything but don't think it fractally. Work is the only dignity says Zelda Fitzgerald. But most people hate their jobs and most work doesn't make anything. Makes a sock once but washes it a thousand times. In a chapel one day around 1205 Saint Francis decides to exit normal life when he sees and hears a messiah in a painting start speaking to him not figuratively or imaginatively but literally. Try lots of things to leverage how you feel. Less isn't more. Colour helps. Behaviour in the vicinity of affection. Sit on a matt with thirteen stripes. Drum up a thousand diagrams to rehearse a hundred swift paintings to rehearse nine glacial paintings to rehearse something platformed between images and lives which is other than what we have. Clean up after with detergent and boiling water. Saves money on brushes. Never let anyone see you're happy. Don't eat in a space not designed for it. Discipline the dialogues in the Drive Towards 2022. Not tomorrowism. You'll need to recognise if your ambition is hindering your progress. People who carry out an immoral act and then clean their hands with an antiseptic wipe feel significantly less guilty than others. Blackboxing helps certain thought processes but not all. Give the discourse the respect it warrants but keep in mind that it is linear while the world isn't. Stop using adjectives as nouns, like saying "The political" to avoid saying "politics". Assess what the others are feeling as best you can under the circumstances and grant that the smart ones are attempting the same about you. London people prefer to be nice about you behind your back but obviously don't rely on that. Assume reciprocities and parallel flows that take the weight off your subjectivity understood as hinge. The dialogue works best when the audience believes you're reacting spontaneously to what's just been said, so as actor you need to be a diligent listener more than a gorgeous voice though that's always a bonus. Overbreeding makes horses really cheap to buy now. Twenty-five quid. Or less. Then obviously they're really pricey to keep. Shoeing alone costs a fortune. More than studio rent in Hackney. Metropolitan space wages war on chromatic time. In E9, N1, E8, SE15 or E17 the rhythm of spatial art in lockstep to the swaying movements of the rentier beats a slow dance to death.





John Chilver is an artist and writer based in London. The project made for xero, kline & coma is his tenth solo show. He has exhibited nationally and internationally, including solo shows at Casey Kaplan New York, Il Capricorno Venice, Thomas Cohn Sao Paolo, Michael Janssen Cologne, Asprey Jacques and Keith Talent London. His writing has appeared in anthologies and journals including Afterall, Art Monthly, Art Papers, Distinktion/Scandinavian Journal of Social Theory, Schizm, Starship. He teaches at Goldsmiths, University of London.
Emily Rosamond is an artist and writer. Her recent writings have appeared in Paragrana, Finance and Society, International Journal of Performance Arts and Digital Media, Moneylab Reader (Institute of Network Cultures) and Are We All Addicts Now? (Liverpool University Press). She is Lecturer in Visual Cultures at Goldsmiths, University of London, and Joint Programme Leader, BA Fine Art & History of Art.