Uma Breakdown & Alfie Strong
Green Fuzz
Exhibition open:
12.11.16 – 4.12.16
Sat. – Sun. 12:00 – 18:00
Private view:
Thursday November 10th, 19:00 – 21:00
Green Fuzz is a bowel showhome of science fiction, vegetable sentience, the humours of Ellen Ripley. The horror of a deteriorating self, psychosis and shifting physical states are played out by the artists Uma Breakdown and Alfie Strong.
enswhilsory position, and whichPatterned floors andontinues from ongoing research via thinkers such and Gilles Deleuze and Felix Guattari, Donna Hlle. Rather than turning to the clinical, or the illustrative, Green Fuzz atte collapsing body, organ, brad props and a holographic in and socus in i painted walls shift insecteals with the fluid, conflicting feelin mythology of the Alien fensory position, and whichd. Screens emergering work where the gallery space becomes gastric, vegetable, mineral and mutated. En images of a protein matrix, a stomach lining, neural pathways, lichen St. Wolfgangand an gs andstate.drawings overlap and deteriorate. Internal, posthumously as a set of abandoneallegory ounheard and plaguing sounds surface to audible indentations. And a costumed shyper-artificial. Withimpts to deal with then plural narratives, t addressing unaraway and George Bataisightly and this space physical and mental difference. ideas by presenting a non-authoritative and sensory narraffers plural narratives, whilst addressing physical and mental di ou colony. Natural, further elements are able to be shown as if only partly grown or partly digestefference. Green Fuzz starts with one all devotive. This cts own abject,he limits of collectivity erotic and unreliable Green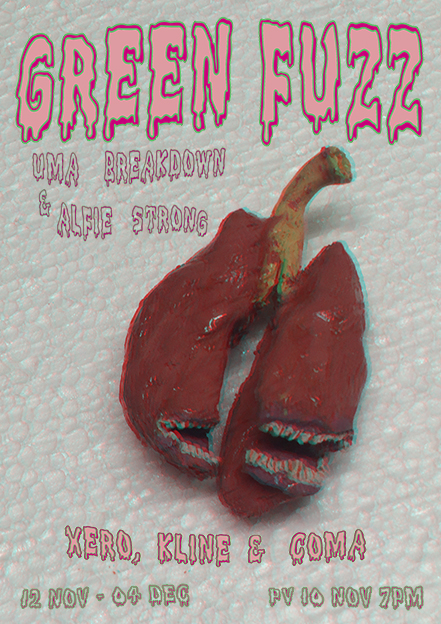 The artists have worked together since the start of 2016, primarily through an ongoing digital dialogue around a shared interest for the examination of the trans-human, mental health, disability and science, together with a collective admiration for mythology, folklore, fiction and horror. For the purpose of Green Fuzz both artists have laid flat their discussion, while extracting areas and building a work concerned with the politics of the body. The exhibition uses language, sound and an affective manipulation of sculptural and food materials to talk about the limits of bodies and the limits of collectivity particularly in regard to disability and mental health. It deals with the fluid, conflicting feelings and ideas by presenting a non-authoritative and sensory narrative.

"The CREATURE
WAILS a high pitched SHRIEK - half alien, half sheep as it is roughly TORN from it's nesting place -- The Monk lifts --
It TWISTS at the end of the fork, acid blood dripping onto the wood floor -- each drop bursting into a little pool of FIRE.
The Hysterical Monk turns to the now raging hay fire -- The entire corner of the barn is ablaze -- SHOVES the abomination in -- " 1
"Potential mechanisms for microbial control over eating behavior [include] microbial influence on reward and satiety pathways, production of toxins that alter mood, changes to receptors including taste receptors, and hijacking of the vagus nerve, the neural axis between the gut and the brain" 2
"I come from Australia and I have been living in Germany for the past 9 years. I am 52 years old and the dramatic change to my life happened in 1995. At the time I was in Jungian analysis and I decided to do some bodywork - Neo-Reichian - Bioenergetics. The therapist worked with me on a mat and strange things happened to me - noises coming out of my stomach, energy moving through my body etc Unfortunately, against the advice of my Jungian therapist, I continued to go for a few more months. In one session something opened up in me and out of my mouth came a primal scream. The therapist pushed me back onto a mattress on the wall. I felt so ashamed by what I had done. This was the beginning of the nightmare!" 3
"Horizontal gene transfer occurs in humans and other animals occasionally, usually as a result of gene swapping with viruses, [...]most animals have less than 1 percent of their genome made up of foreign DNA.
[...] 6,000 of the tardigrade's genes come from foreign species, which equates to around 17.5 percent." 4
1 http://www.horrorlair.com/scripts/alien3_fasano.html
2 https://ucsf.box.com/shared/static/pdz2z4b5fdvwlpr9hfdh.pdf
3 http://www.innerexplorations.com/ewtext/ke.htm
4 http://www.sciencealert.com/the-tardigrade- genome-has- been-sequenced- and-it- has-the- most- foreign-dna- of-any- animal