Everything has led to this moment
New works on paper by Amanda Beech

Exhibition open:
31.5.14 – 22.6.14
Sat. – Sun. 12:00 – 18:00
Private view:
Thursday May 29th 19:00 – 21:00


Everything Has Led to This Moment retrenches the role of images within the domain of necessity and fate. Shapes, patterns, data and information now preside and insinuate new facts. The future is no longer possible as a thought, and instead we confront only the designs of reality; since a reality that really exists can supplant the false consciousness of our universal perceptual malaise. Everything that is here is meant to be, everything that is here is necessary.
A series of injunctions; t(r)opographies of what is and will be, sit on the gallery walls. These works on paper and installed wall paintings show hands that point, display and grasp. They are iconic representatives of companies, interests and propositions. In these works, will, facticity and prophetic determination coalesce and occupy the landscape of image design. Freeways crash and twist as the Earth's curvature erupts again, smashing the myth that the open road is the space of our freedom. Constrained to a new contract, a covenant to rule, the image cranks up, inflicting new ones where fate is now something else.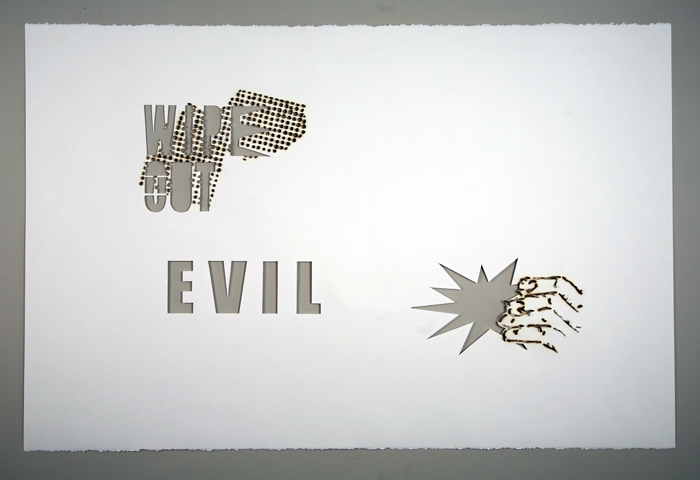 Amanda Beech is an artist and writer. Her work takes up the dynamic of image-force, through entangling narratives of power from philosophical theory, literature and real political events. Inspired by these discourses on power, her work proposes a new realist politics of the artwork and its possibilities in the context of contingency. Beech has exhibited her art work internationally; recent exhibitions include: Final Machine 2013, featuring in the next Irish Biennial, EVA international, Limerick, 2014, also shown as a solo exhibit at Lanchester Gallery Projects, Coventry, UK and Ha Gamle Prestagard, Norway, 2013; Asymmetrical Cinema, Beaconsfield Gallery, London; and, (Past Present) Future Tense, Center for Living Arts, Alabama, USA 2013. Recent publications include; Final Machine, Urbanomic, 2013 and Sanity Assassin, Urbanomic, 2010. Forthcoming essays can be found in the anthologies Realism, Materialism, Art, Sternberg Press, 2014, Speculative Aesthetics, Urbanomic, 2014 and The Flood of Rights, Merve, 2014. Beech also regularly speaks at conferences and symposia including keynotes for "Generative Constraints", London, 2103 and "Exhibiting Video", London, 2012 and she will be artist in residence at Fieldwork Marfa 2014. She is Dean of Critical Studies at CalArts, USA.
More information here.