Joseph Noonan-Ganley and Frank Wasser
Sad Mirror
Exhibition open:
6.10.18 – 28.10.18
Sat. – Sun. 12:00 – 18:00
Private view:
Monday October 1st, 18:00 – 20:00
Closing event -
the artists in conversation with Kirsten Cooke:
Thursday 15.11.18, 18:15 - 20:00


The works in this exhibition arise out of two different forms of labour. Frank Wasser's newspaper works focus on the culture of precarious work under zero-hour contracts, while Joseph Noonan-Ganley's HD video focuses on eroticised labour in the making and wearing of early 20th century dresses.

In Wasser's Zero Hour Fragments, 2018, grey floors, white walls, at times a deafening silence and a body perform gestures informed by the artists time spent working precarious jobs at Museums across London. Taking up the space that might be occupied by an invigilator, the performer enacts a sequence of gestures and movements that address the architecture of the space, objects that might be missing from the exhibition and the viewer.

Central to The Cesspool of Rapture, 2017, are moving-image studies of zippers, stains, rips, abrasions, openings and closings in a series of dresses made by the American couturier Charles James (1906-1978). These HD videos register and move through James' garments, his pornographic drawings and graphic illustrations of fastening devices at alternating speeds. This is registered in sound by an encyclopaedic catalogue of sonic gestures derived from the zipper and synced to each individual frame. It is at times violent and at other times tentative and gentle as the uncovering of the damage to the dresses unfolds. Chopped up audio recordings of James explicating his interests in eroticism and sexuality persistently interject the footage. The explicit language of his conversation and his drawings animate the experiences of the people that once wore the garments. Sound engineering: Paul Maguire.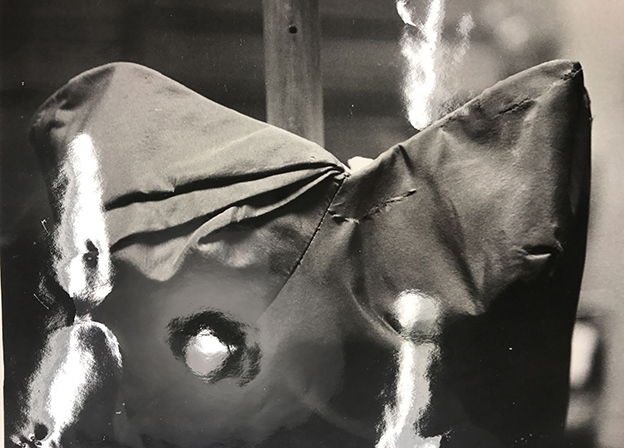 Frank Wasser, recent and upcoming exhibitions and performances: Survey, 2018, Jerwood Space, London; Radical Residency 2, 2018, Unit 1 Gallery/Workshop, London; The Slow Cancellation of The Future, 2018, am London, London; Letters of Last Resort, 2018, Damien and the Love Guru, Brussels; The Living Newspaper, 2018 (with Chris Timms and Elaine Reynolds), Tate Modern, London; Hmn 11, 2017, Somerset House, London; Dear Diogenes this is Something Else, 2016, Villa Empain, Brussels. Frank Wasser is supported by Arts Council of Ireland. 

Joseph Noonan-Ganley, recent exhibitions and performances: Something 3 Be Scared Of, 2018, no.w.here, London; Amended Plastics, 2017, puntWG, Amsterdam; Heretics 12, Broken Diorama, 2017, Radio Quantica, Portugal; Stories From the Sculpture City, 2018, Henry Moore Foundation, Leeds; Plural Melts: Femme Fabrications, 2016, Yvonne Lambert gallery, Berlin; Moving Performances, 2016, Faculty of Music, University of Oxford, UK.
Kirsten Cooke is an independent artist-curator, who has co-founded the projects House of Hysteria, Concrete Plastic and Material Conjectures. Cooke's recent texts have been published by Goldsmiths University (London), Ma Bibliotheque (France), ARMSEYE (LA) and WordPress (London). Cooke's co-authored projects have held exhibitions or symposia over a range of different institutions, such as Beaconsfield gallery (London), LAM Gallery (LA), ArtLacuna (London), WORK (Black Dog Publishing, London), MEEM Gallery (Dubai), Artsadmin (Toynbee Studios, London), Université Paris 1 Panthéon-Sorbonne (Paris), Sonce Alexander Gallery (LA), University of Reading (Reading), kynastonmcshine (The Old Police Station, London), Brook Theatre (Chatham, Kent), Fringe event and publication - 52nd Venice Biennale (Venice), SIAD Gallery (Sheffield) and a 'Late at Tate' - Tate Britain (London).